Eurobikeski 2016 - Spain - Day 6
Logroño - Pamplona
For them stats Strava Route Logroño to Pamplona
I wake up to a wet campsite and the Dutch couple next to me are almost fully packed and ready to roll out. It's a bit of a slow start for me this morning so I head over to the campsite's terrace to eat some breakfast which included the loaf of bread from Umm, ham, an orange, and an vending machine coffee which sort of splattered a ton of sugar into my cup.
Today's cycling included some more deserted highway riding with a bit of climbing. While in Spain, my usual flow is to create a Route on Strava (here's an example), export it, and move it over to my Garmin. The course view looks like this: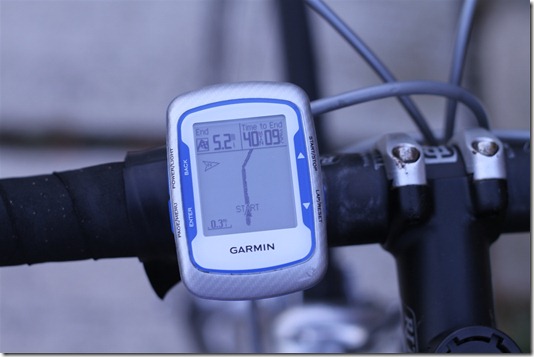 And the other nice bit is it will show you the climbing you have coming up:
No fancy turn-by-turn here but it's just enough to let me know when I need to turn or when I'm off course (Honestly, I'm not sure turn-by-turn would help much here. A lot of the streets aren't really signed).
As I was riding toward Pamplona, I noticed the hills were dotted with wind turbines at the very tops. I thought it looked neat and wasn't aware I'd be riding passed them pretty soon. Something glitched out in the route processing and only the first 70km of the route I mapped out were processed by the computer, conveniently hiding the steep 1000ft climb at the end of the route. Normally this wouldn't be too big of an issue, but I was pushing it pretty hard early on to try and beat the, "100% chance of rain" (It never rained during my ride) so this wasn't my most pleasant climb.
I get to Pamplona (which again is another big stopping point for the Camino hikers) and it's Saturday. For some reason, I thought I'd be able to walk up to Hostel Hemingway and grab a room. As I speak into the buzzer, the man informs me there are no rooms available. Sitting on the bench outside, patiently waiting for Google Maps results to load, water droplets appear on my phone. Surprise climb, no accommodation, and the start of rain is putting me into a rough place. I find a place nearby called Hotel Yotel. As I walk in and stand in line a group of bikers (the engined kind) clad in Harley Davidson jackets are being given their keys. The clerk ushers them towards the elevator and says, "Oh, the WiFi password is "pamplona". Like the city, all lowercase letters." (noted). After speaking to him, he said they're full as well and that I might have better luck outside the city centre near the University/Hospital. I thank him, walk outside, connect to the WiFi, and complete a booking.com reservation a few kilometers away.
Once at the hotel I shower up and head down for a fancy (but good) hotel menu del dia.
Mildly interesting, the desert on this plate shifted when the waitress carried it over, but I kind of like the sugar powder shadow it leaves behind. It's a happy little accident.
Also need to stop smelling so much on my bike:
It's the Champion's League final today and both teams are from a city in Spain (Madrid) so I head to the center to try and find a spot to watch the game.
Just like in Logroño, Pamplona has more of the narrow, long snack/wine shops. Managed to snag a few more pictures this time.
After the game, I do a bit more exploring and stumble upon what looked like an anarchist concert in a packed open building. Weird mix of rock, reggae, and rapping. It's been a long day and after getting back to the hotel, I pass out really fast.